Crystabella Beauty Care
Regular price
Sale price
$60.00
Unit price
per
Sale
Sold out
Includes: Acne Control Cleanser, Herbal Face Wash and Dark Spot/Acne Herbal Cream all derived from 100% Organic ingredients and Herbal extracts.

These Combo is formulated to help with Balancing oil secretion, remove acne marks, shrink pores and present a flawless glowing skin. The Salicylic Acid in our Acne Control Cleanser works to exfoliate and clear pores, while smoothing the skin, returning it's natural glow.  Fights irritants while preserving the skin's healthy balance. This multi-intensive formula supports skin to reduce future dark spots and improves skin barrier health with continued use. With consistent use, Our Crystabella Acne and dark spot removal herbal cream can help to minimize the appearance of dark spots, acne pigmentation and improve uneven skin tone.  And Our Herbal Face Wash is enriched with African black soap, Shea butter, Olive Oil, Coconut Oil, Grape seed Oil, Turmeric powder. This product is proven to effectively balance oil secretion, remove Acne marks, Shrink pores and presents a flawless glowing skin free of Toxins. 
Key Ingredients: African Black Soap, Salicylic acid, Propylene Glycol, Glycerin, Disodium Edta, Mentholum, Mangiferia indica extract, Ethylhexyl palmitate, Cetearyl Glucoside and alcohol.
Usage; Start with washing your face or affected area with the Herbal Face Wash. Apply a few pumps of the Soap on your palm and spread evenly over face, wait for a few minutes then rinse off, follow up with Our Acne Control cleanser by gently cleaning the face with a cotton wool after which you will apply  our Dark Spot/Acne herbal cream.
Legal Disclaimer :
This statement has not been evaluated by the FDA. This product is not intended to diagnose, treat, cure, or prevent any disease.
Crystabella beauty care llc is not responsible for allergies. Please read ingredients on the product details/labels before use. A skin patch test (small amount) is highly recommended before using any of our products. We love all our Customers and wishes everyone a healthy life.
Share
View full details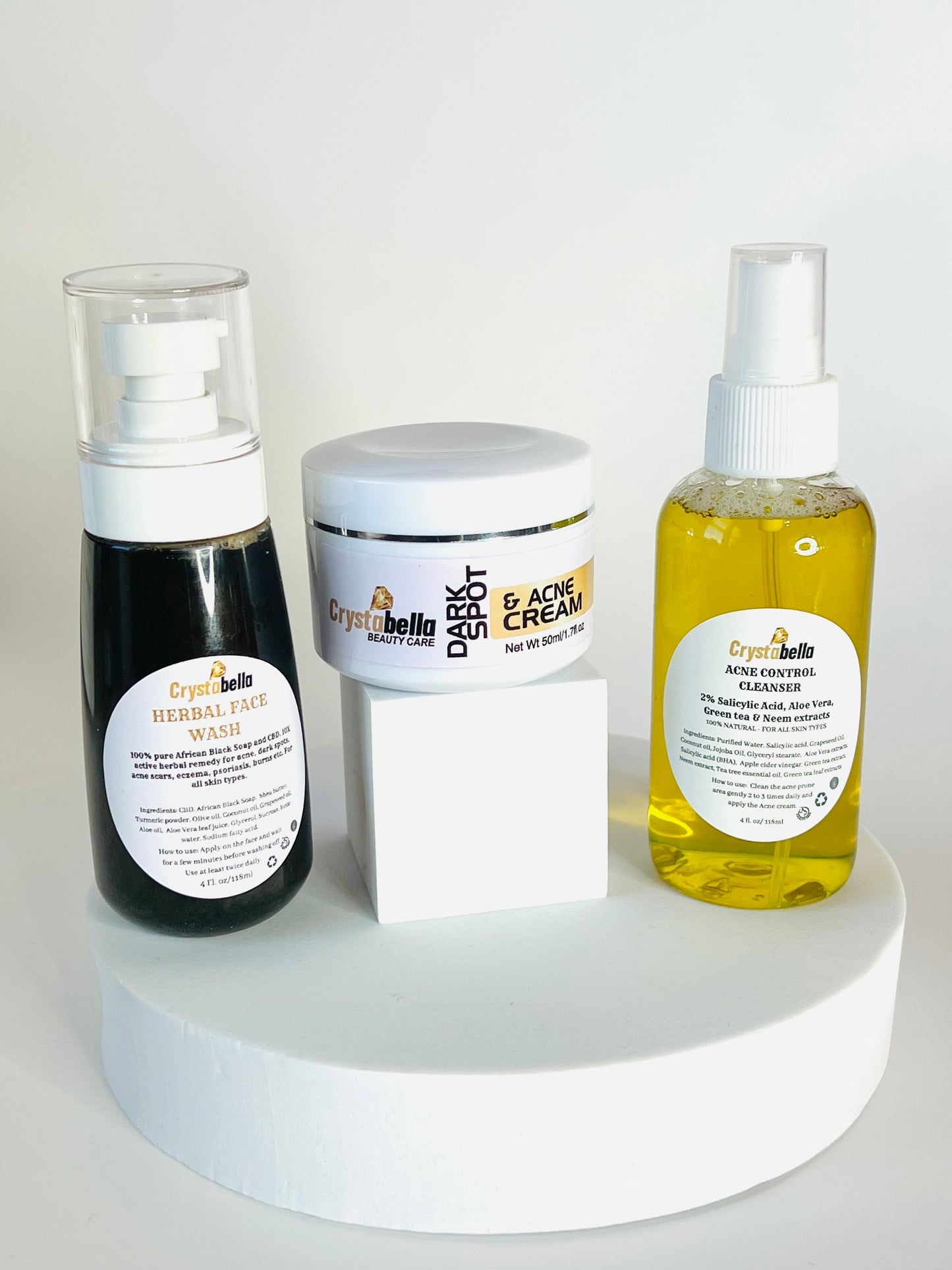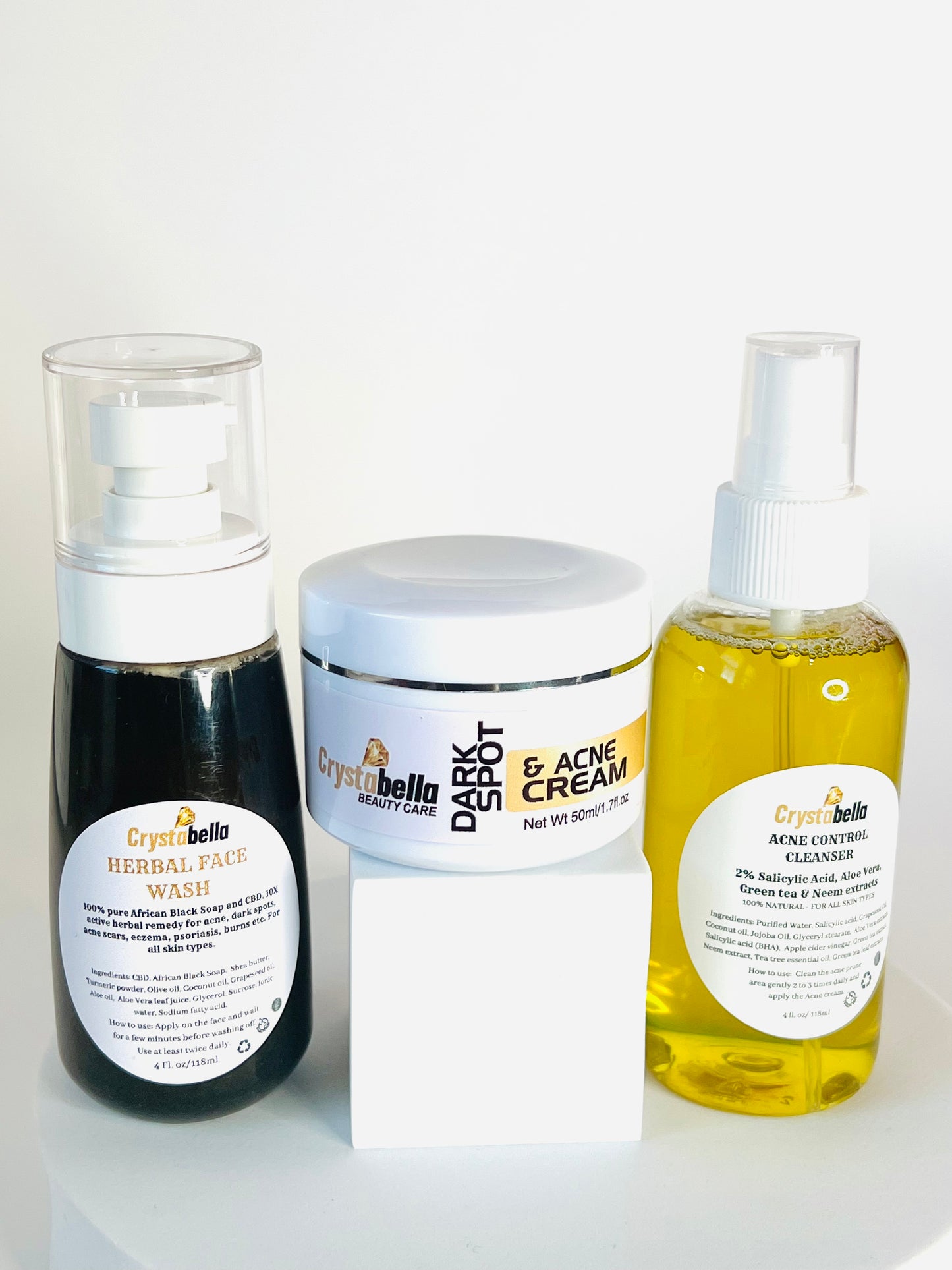 Our Formulas are result-driven
- CUSTOMER'S AMAZING RESULTS -
MORE COLLECTIONS TO WOW YOU!
We thought to share these beauties loved by many with you.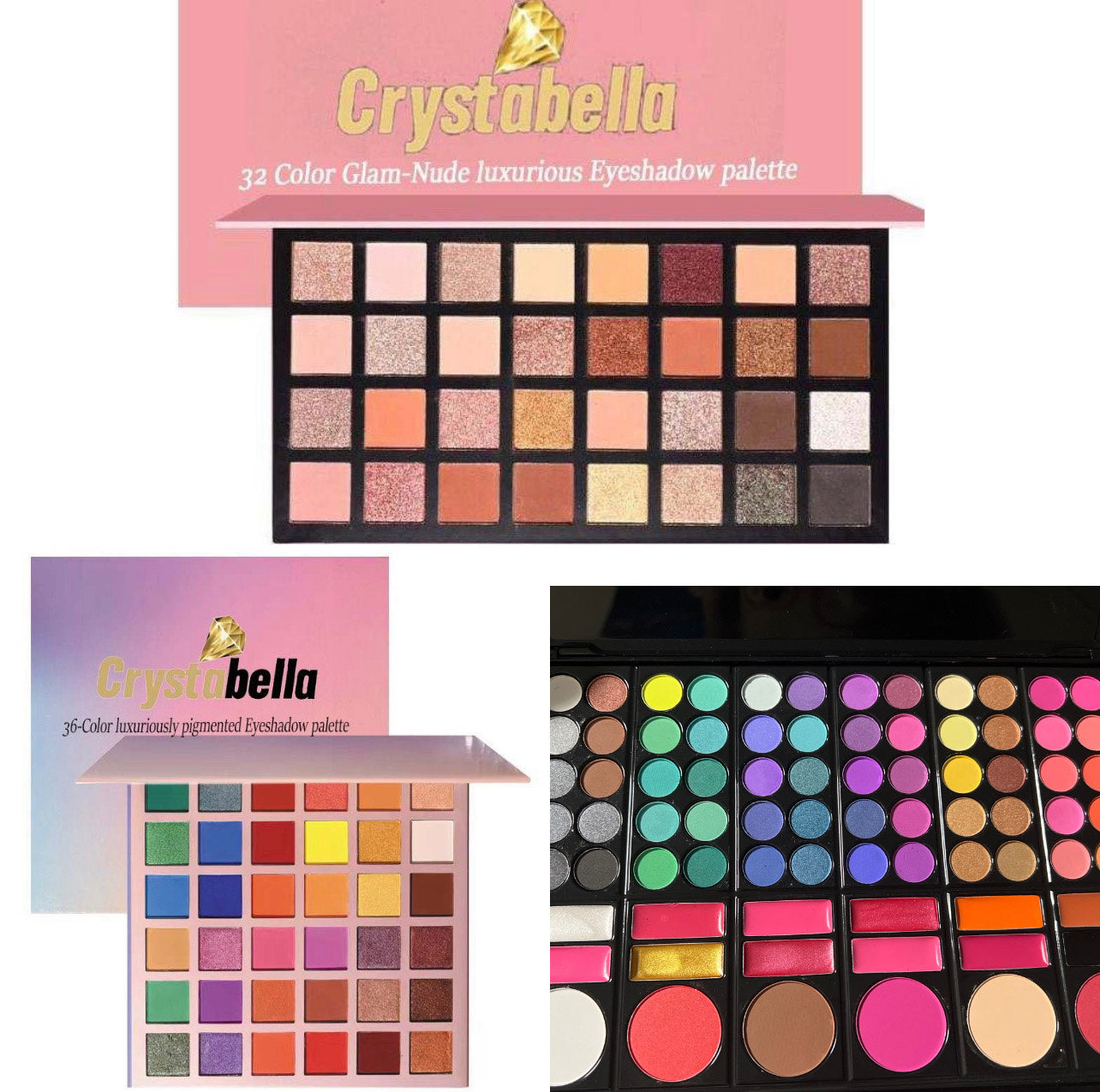 EYESHADOW COLLECTION
These 3 Eyeshadow Palettes showcases flawless, long lasting colors that is guaranteed to last all day. Perfect for all complexion and suitable for every occasion.
Shop Collection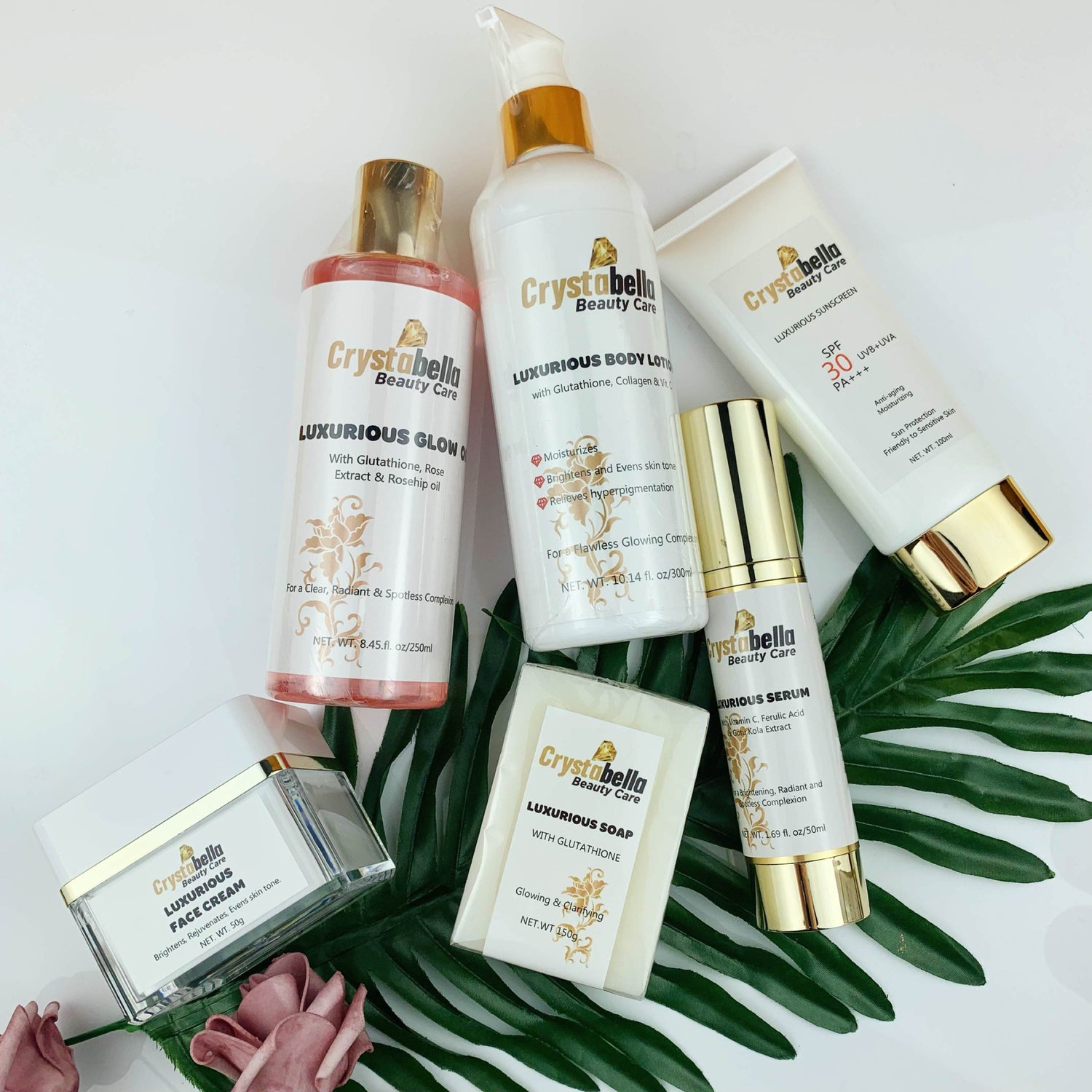 The Glow up bundle
Craving an amazing Glow with even tone complexion? These Glow up bundle offers nothing short of it, enriched with Glutathione, Collagen, Vitamin C, Rose flower, Ferulic acid, Gotu Kola etc. These Bunlde will leave your skin deeply moisturized with a lavishly spotless glowing complexion.
Shop now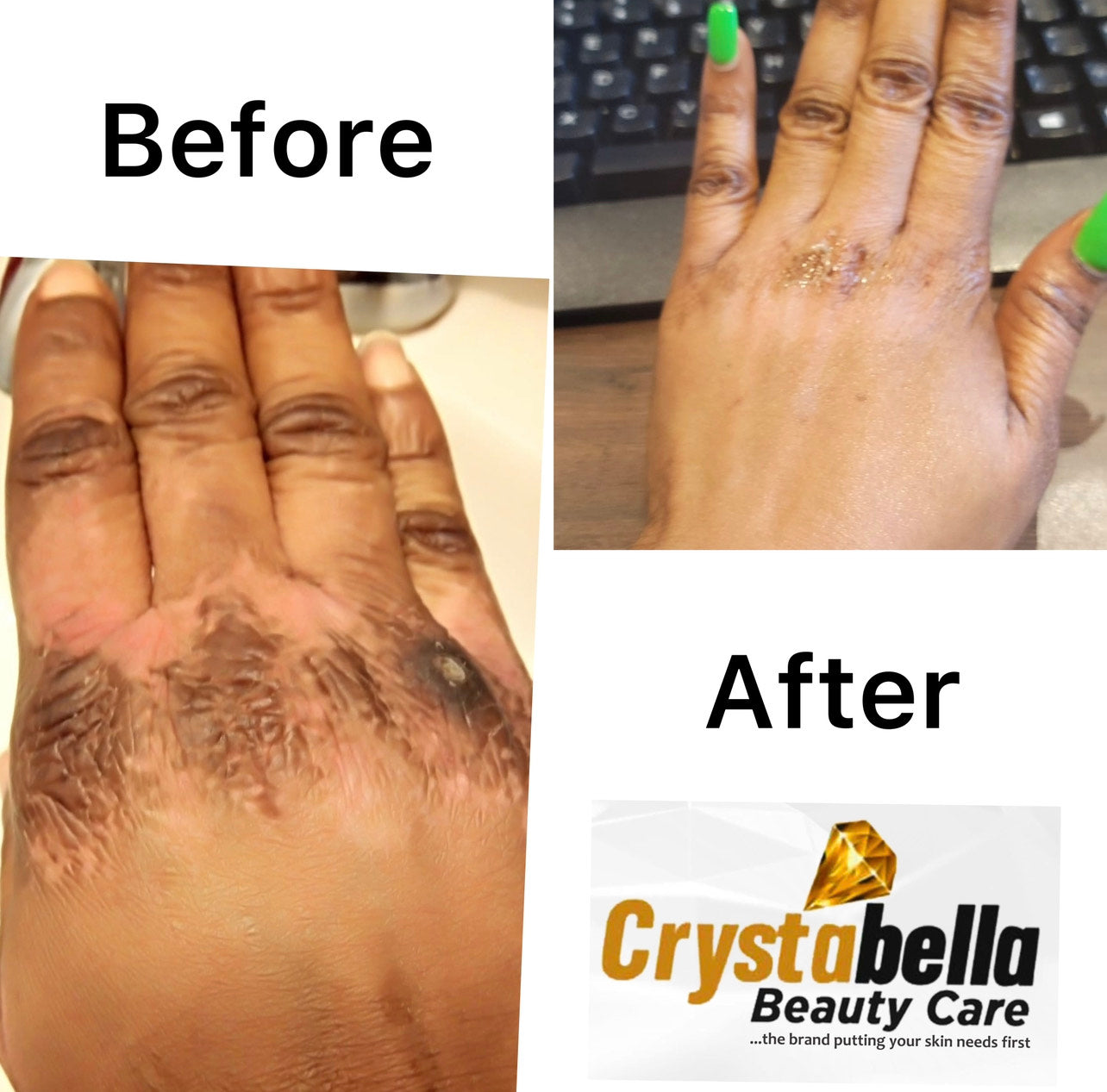 Dark Knuckle removal Cream
Tired of Dark Knuckles, dark knees, thighs, elbows, armpit etc.? We employ you to try our Dark Knuckle removal Cream. Here is a picture from our Client who suffered severe knuckle damage from a Chemical peel reaction. She got her knuckles cleared and her confidence restored.
.... Your smile is our delight.
Shop now